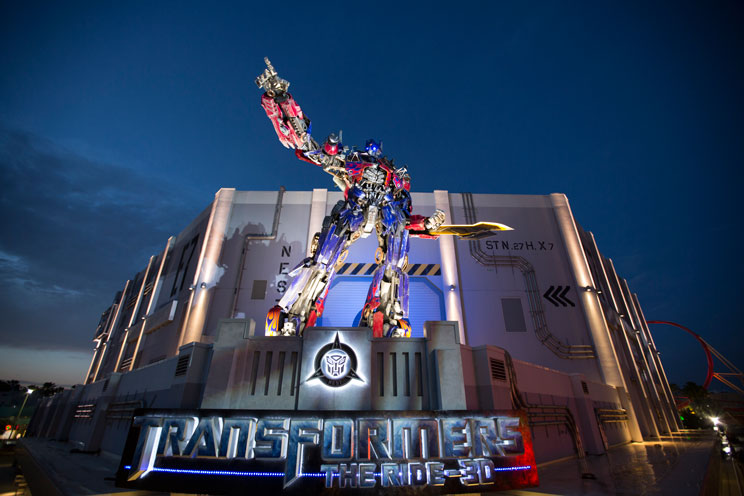 Universal Studios Florida
Transformers: The Ride – 3D at Universal Orlando
Owner: Universal City Development Partners
GC: Hensel Phelps
Case Study
Transformers: The Ride – 3D at Universal Orlando
Project
Universal Orlando wanted to create a cutting–edge, next generation thrill ride based on the widely popular science–fiction movie series. The project blended HD 3D with flight simulation technology to give guests the very real sensation that they were in the middle of the warring factions of Transformers.
Assignment
Design all electrical and control systems to support the facility and all Ride and Show equipment
Install all facility and Ride and Show power systems, including final terminations
Install all facility Ride and Show control conduits and cables, including all final terminations to Ride and Show equipment
Challenges
Finish assignment in seven months to allow for Universal's goal of completing the ride in nine months
Develop a plan for a large workforce to minimize downtime and maximize efficiency
Select the latest electrical technology to make the job labor–efficient, faster, and simpler
Determine how to work around an army of other subcontractors without sidetracking the timetable
Store all material, switchgear and light fixtures off–site
Solutions
Reached agreement with Universal to perform the work while the park was open for guests
Created two teams of 65–110 workers to be on the job 10 hours a day, six days a week on morning or night shifts
Set up an overtime schedule so work could be done 24/7
Selected a vendor whose innovative wiring products reduced the amount of labor for installation
Met with supply vendors upfront to ensure a complete understanding between all parties to help meet everyone's needs and reduce design changes
Remained flexible to allow workarounds to be done quickly so that unforeseen obstacles would not slow progress
Developed a schedule to deliver all off–site materials as needed before 7 each morning
Did You Know?
The electrical infrastructure that brought Transformers: The Ride – 3D to life is massive:
56.8 miles of control/audio/visual cables
37.9 miles of branch wiring
14.8 miles of electrical metallic tubing (EMT) conduit
10.4 miles of feeder wire
9.5 miles of polyvinyl chloride (PVC) conduit
Conclusion
A project of this size typically can take 24 to 42 months from the start of design to opening. Service Complete Electric cleared its final electrical inspection in just over seven months. The electrical work progressed so smoothly and efficiently that Ride and Show vendors were able to start testing and installing their equipment in five months. For its outstanding work on Transformers: The Ride – 3D, Service Complete Electric received the prestigious ABC Eagle Award, presented by Associated Builders and Contractors of Central Florida.