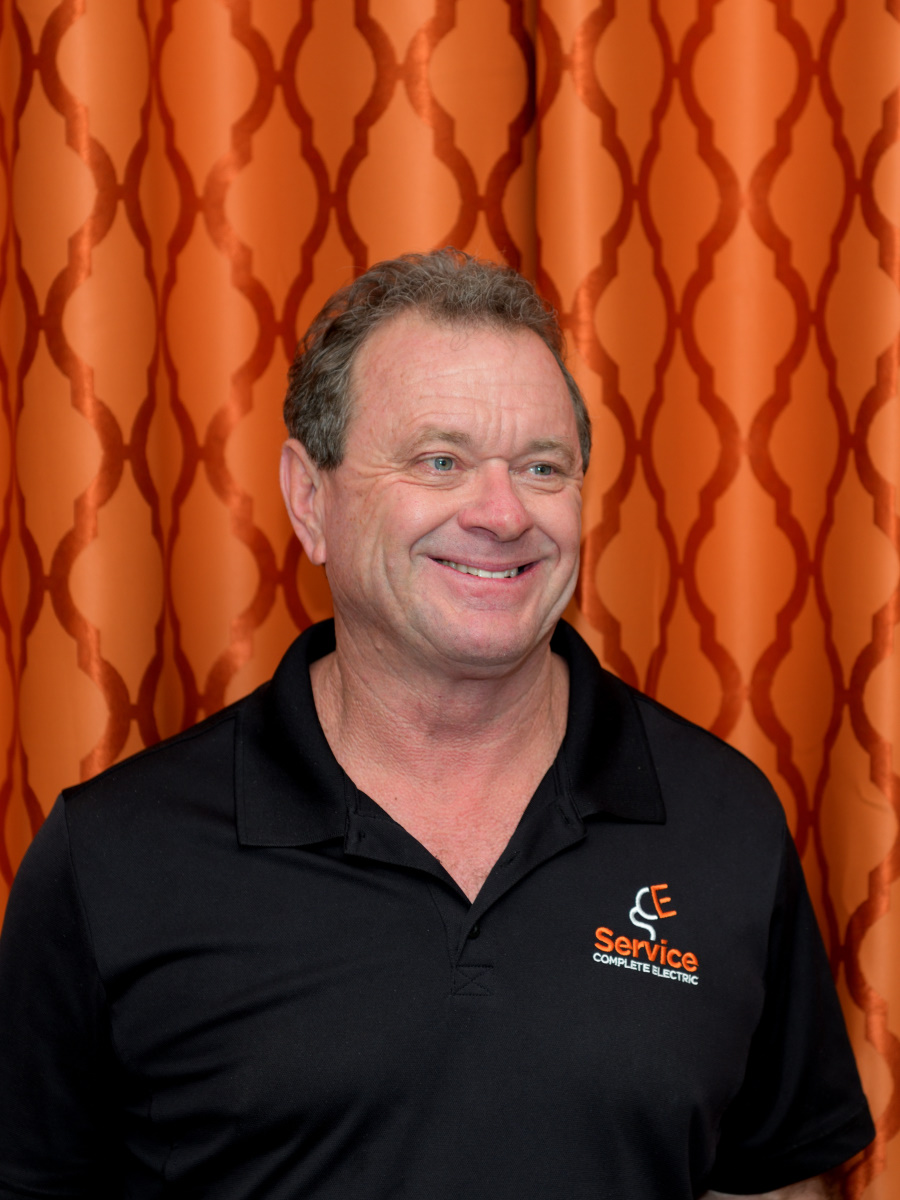 Meet Tony Scruggs
President
A conspicuous sign on a shelf in Tony Scruggs' office reads, "it CAN be done."
It's Tony's mantra and the attitude he brings to any project as president of Service Complete Electric.
Early in his career Tony got a big opportunity to install the electrical support system for a stunt show in the lagoon at Universal Orlando. But there was one snag.
Although he was a licensed professional engineer, the job required that Tony also have an electrical contracting (EC) license.
"We were getting ready to go on vacation, and I studied for the exam on the trip up to Bethany Beach, Virginia, with my family," Tony recalled. "I also studied on the way back. I took the test and got my unlimited EC."
Problem solved.
Then there was the challenge of how to work on the water in order to lay thousands of feet of conduits on the lagoon floor that would house the electrical wiring.
"I built a barge in my backyard using a big wooden platform, and I got some 55–gallon barrels that I strapped to the bottom," he said. "This gave me a platform that a couple of guys and I could use to work on the water."
Another problem solved.
Next was the issue of finding a diver to perform the work at the bottom of the lagoon — and at night!
"I looked into hiring commercial divers, but they were more than I could afford," he said. "So I said, 'Heck, I'm a certified scuba diver. I'll do it.'"
Yet another problem solved.
The final hurdle was arranging a schedule that allowed Tony to run his consulting engineering firm, AK Scruggs and Associates, during the day and complete the lagoon project at night.
"When I got home in the evening, I would sleep for a few hours then get up around 8 or 9 at night so I could be at the theme park just before it closed. I would work underwater until about 4 or 5 in the morning then go home and sleep a couple of hours. Then I'd get up and go to work at my other company. This went on for four months."
Tony's success on that project has led to even bigger assignments at Universal Orlando, including Transformers: The Ride — 3D, the Wizarding World of Harry Potter, and Men in Black Alien Attack, as well as the Shuttle Launch Simulator at the Kennedy Space Center Visitor Complex.
Not every job that Tony and Service Complete Electric take on is on such a grand scale. But whatever the challenge that Tony and his team encounter, they will find a smart, cost–effective solution. After all, it CAN be done.
"The more difficult and complicated the projects, the more I've liked them."