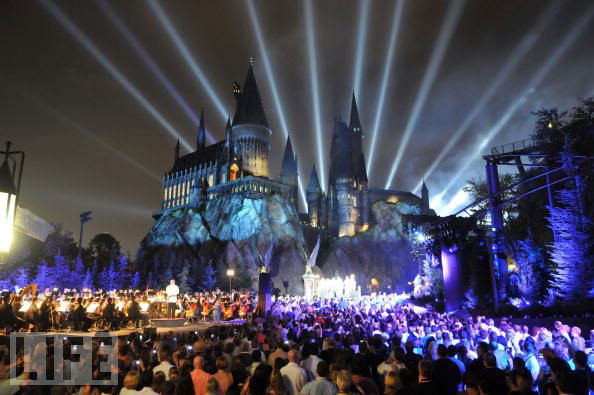 Universal Studios Florida
Wizarding World of Harry Potter
Owner: Universal City Development Partners
GC: PCL
Case Study
Wizarding World of Harry Potter at Universal Orlando
Project
Construction of the original Wizarding World of Harry Potter, Hogsmeade, and the surrounding village at Universal's Islands of Adventure theme park. Once the attraction opened in 2010, guests could explore Harry Potter's world, including Hogswarts castle and Hogsmeade village.
Assignment
Develop competitive bids on three stand–alone jobs that made up the overall project

All conduits and wiring underground
All conduits and wiring above the surface
All conduits and wiring supporting the surrounding village

Install all electrical systems throughout
Challenges
Managing the sheer size of the site and the magnitude of the project
Determining where underground wiring should surface to support ride and show equipment
Coordinating the workflow of up to 175 crew members to maximize efficiency
Preparing for an inspection by company executives several months before the project was complete
Solutions
Teamed with an experienced and familiar project manager
Worked closely with Ride and Show vendors to pinpoint exact locations for underground wiring to surface
Created teams working under a supervisor and several foremen to make assignments manageable
Ramped up staffing to work around the clock for four days to prepare for site visit
Did You Know?
So much conduit and cables were needed that they covered more than 400 square feet of ground before they were buried:
253 miles of branch wiring
152 miles of control/audio/visual cables
48 miles of polyvinyl chloride (PVC) conduit
45 miles of electrical metallic tubing (EMT) conduit
12 miles of feeder cable
Conclusion
Universal Parks and Resorts Chairman and CEO Tom Williams has called the Wizarding World of Harry Potter a game changer that had a major impact on park attendance, revenue and merchandise sales.
"It's known around the world. To be able to say that we were so instrumental in putting together everything that is electrical in that ride is pretty cool," says Tony Scruggs, President of Service Complete Electric.